'Mr Decimal'
Family memories of Noel Moore's association with decimalisation.
by David Moore
It is hard to believe that Decimal-Day, 15 February 1971, was half a century ago. My father, Noel Moore (1928-2008), was Secretary respectively of the Committee of Enquiry on Decimal Currency, 1961-63, and of the Decimal Currency Board, 1966-72, its senior staff member. As such, answerable to the board, he played a central role in the coordination of the decimalisation of Britain's currency. Although not without numerous challenges and controversies, this was generally regarded, in retrospect, as having been a remarkably smooth process.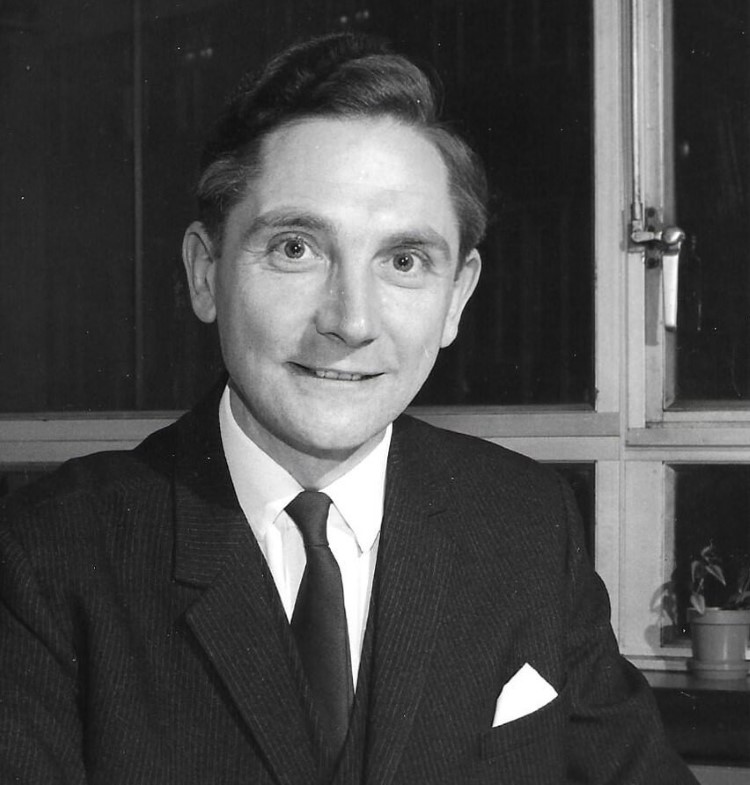 Noel Moore, Secretary to the Decimal Currency Board, March 1969.
My brother, Richard, and I were at school at the time but we now appreciate that decimalisation was the part of our father's civil service career which he had most enjoyed and found fulfilment in. The process occupied him for seven years. Self deprecating, kind, gentle and quietly-spoken, Noel was a family man who had settled with his wife Mary in Brentwood, Essex. Throughout his working life he endured the daily grind of commuting the twenty miles to London by train.
When Britain decimalised in 1971, although only twelve years old, I was aware that something seismic was happening. There would be no more of those dreadful maths calculations in pounds, shillings and pence.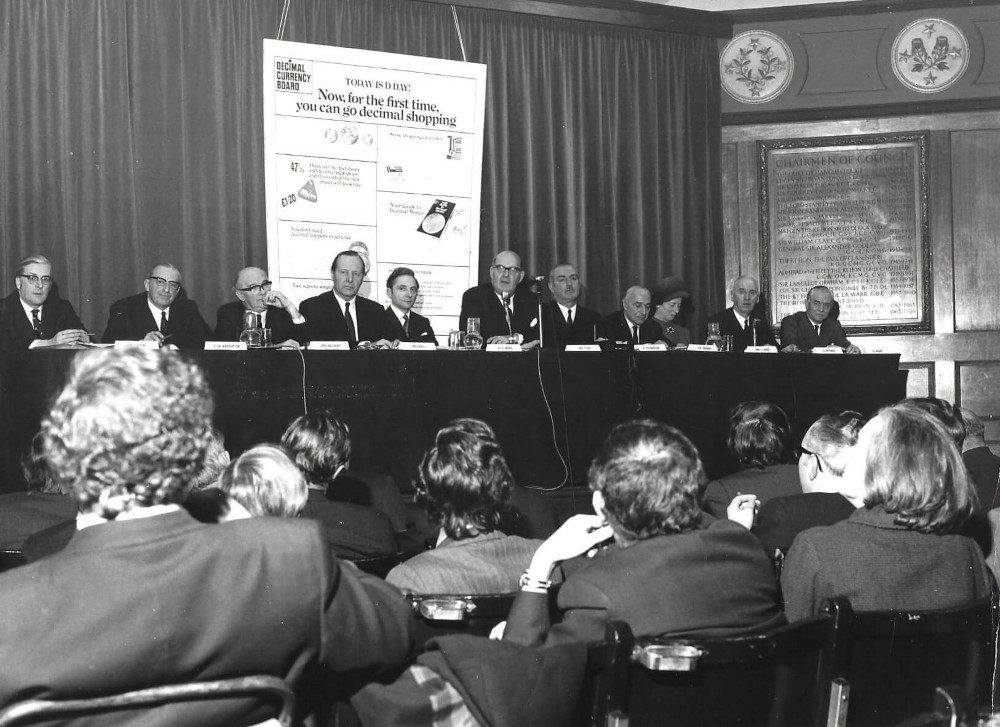 Decimal Currency Board Press Conference, D Day, 15 February 1971. Noel Moore, Secretary, 5th from left. Lord Fiske, Chair, 6th from left.
My father's parents were Rowland and Hilda Moore of Penistone, a small market town in the, then, West Riding of Yorkshire. Noel's father was a monumental mason, following many generations of masons at least as far back as the eighteenth century when, according to his family history researches, the Moores moved from Bradford. The family home and mason's yard were next to the cemetery.
Noel was not, however, encouraged to follow the family trade. Attending Penistone Grammar School, he was, by all accounts, an outstanding and conscientious student. His parents very much wanted him to succeed. Winning an open scholarship to Gonville and Caius College, Cambridge, he read modern languages from 1947 to 1950, achieved a first-class degree and a half blue for chess. Between 1950 and 1952 he undertook National Service, becoming a 2nd Lieutenant in the Royal Army Education Corps in Berlin and, later, a Territorial Army Captain in the Intelligence Corps.
Noel's civil service career began in 1952 in the Post Office. His training included working as a postman in Cardiff and Bridgend although, in due course, he become Assistant Private Secretary to Charles Hill, the Postmaster General. His appointment as Secretary of Lord Halsbury's Committee of Inquiry on Decimal Currency occurred in 1961. After James Callaghan, then Chancellor of the Exchequer, announced Labour's decision to go ahead with proposals to decimalise, he was appointed Secretary of the Decimal Currency Board in 1966.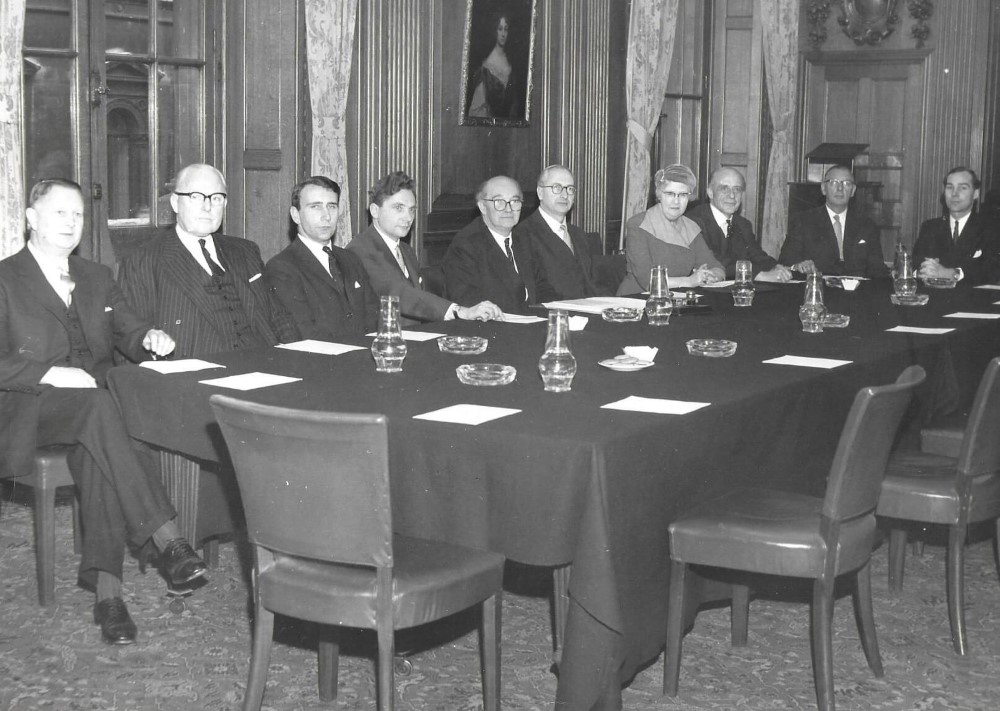 Lord Halsbury's Committee of Inquiry on Decimal Currency, c.1961.
Perhaps surprisingly for a civil servant, my father became, for a time, something of a media personality. He was even referred to as 'Mr Decimal' in the Penistone press. I remember myself attracting considerable attention at school with previously unseen examples of the new coins. I also recall the clamour of a press conference at Heathrow Airport on my father's return with board chair Lord Fiske from a 1967 trip to find out about New Zealand's and Australia's experiences of decimalisation. Noel's account of the changeover, The Decimalisation of Britain's Currency, was published in 1972 and was, I understand, a labour of love largely written in his own time.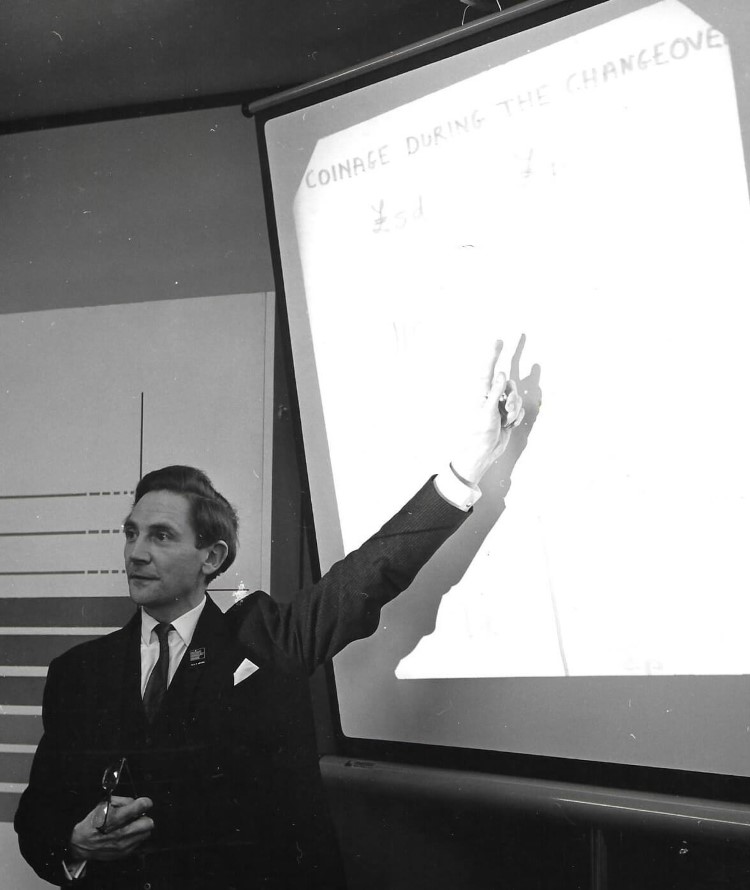 Noel Moore at a Decimal Currency Board Press Conference, 13 Feb 1969.
After decimalisation Noel realised that he had committed an unpardonable civil service sin of becoming a specialist and, worse, one for which there was no further need. His subsequent career, although significant, never seemed, to him, to quite match up to the excitement and personal satisfaction of the decimal years. Working in the Civil Service Department between 1972 and 1981 he became an Under Secretary in 1975 with an oversight of manpower and administrative costs, personnel management policy, industrial pay, pensions, discipline and security matters. In 1981 he was appointed principal of the eleven-year old Civil Service College, which offered senior professional and management training.
Due largely to ill health Noel retired from full-time employment in 1986. A restless energy, however, ensured that he continued to work very actively part-time. A range of roles included being a member of the Civil Service Appeal Board, reviewing the organisation and senior staff levels in the Cabinet Office and serving as a member of Barking & Havering Family Health Service Authority. In later years he spent much time as a volunteer with his wife Mary in Brentwood's Oxfam shop. With characteristic efficiency and determination he took charge of the second-hand books and raised considerable funds.
His specialist decimalisation experience, however, was to prove valuable when he became a consultant to the European Commission on the introduction of a single currency and to the Royal Mint and Bank of England for an exhibition in 1996, All Change, marking the twenty-fifth anniversary of decimalisation. By 2000 he was regarded as an unsung hero on Channel Four's 'Secret History' documentary Funny Money, in which he was extensively interviewed revealing an engaging sense of humour.

Andrew Stafford, a former Chief Executive and Deputy Master of the Royal Mint, kindly sent my father a set of the prize-winning 2008 redesigned decimal coins. He was absolutely delighted to receive these. He would love to have been at the launch at the Tower of London but, frustratingly and due to serious illness, he was unable to attend. Sadly, he died a few months afterwards.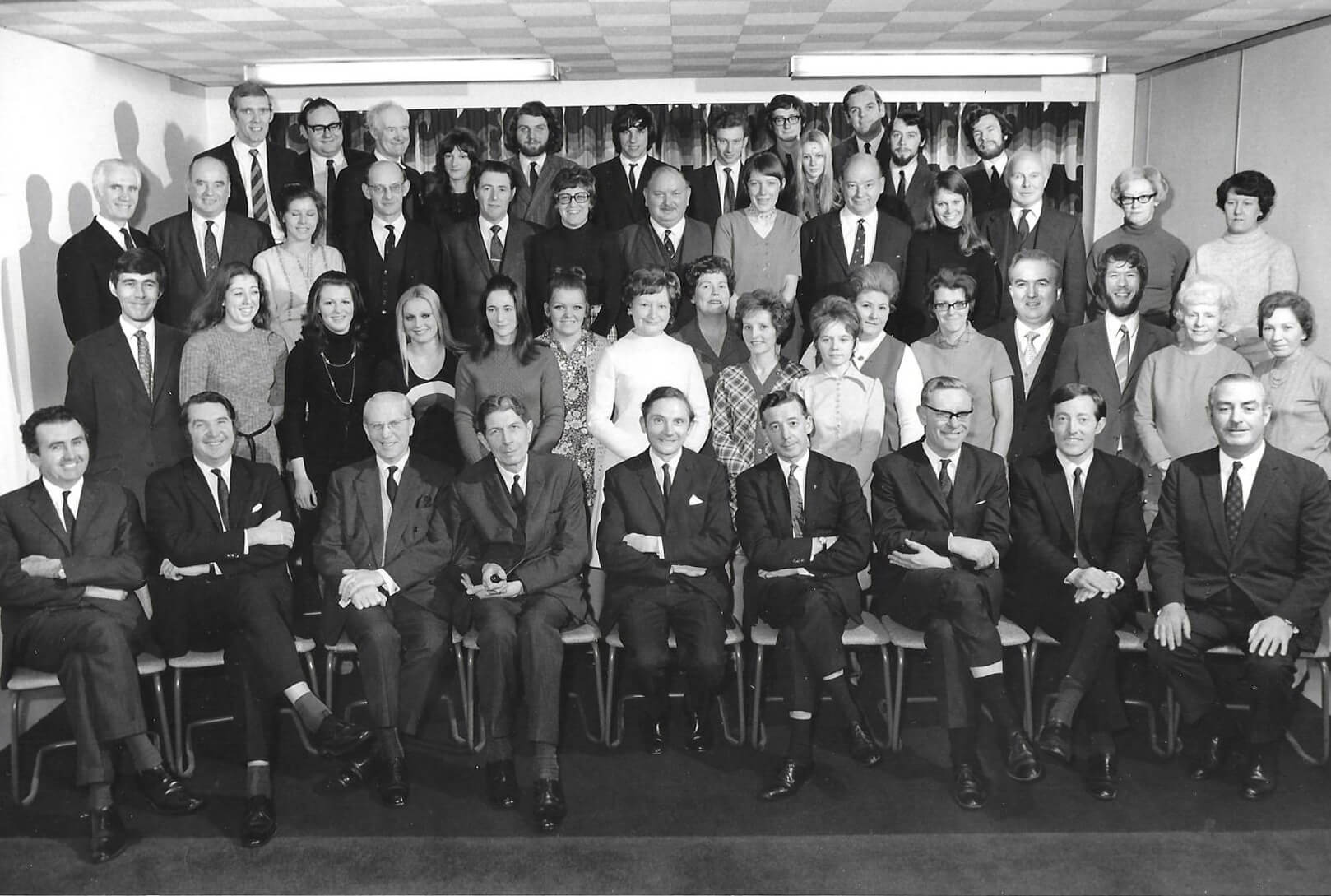 The Staff of the Decimal Currency Board, February 1971.
It was my father's wish that many items from his personal archive of material relating to decimalisation be left to the Royal Mint Museum. These comprise films, posters, archival material, photographs, press cuttings, reports, newsletters, cartoons, ephemera, souvenirs and numerous trial coins. They now form part of the museum's collection helping to record a fundamental and, as it has proved, enduring change to the United Kingdom's currency.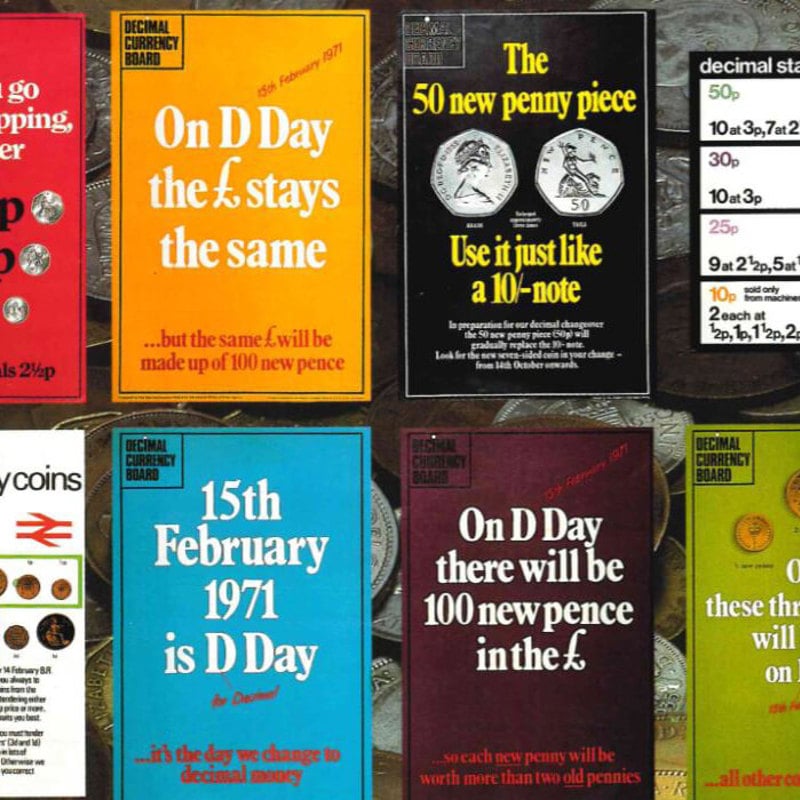 The Royal Mint Museum has an outstanding collection of material relating to decimalisation.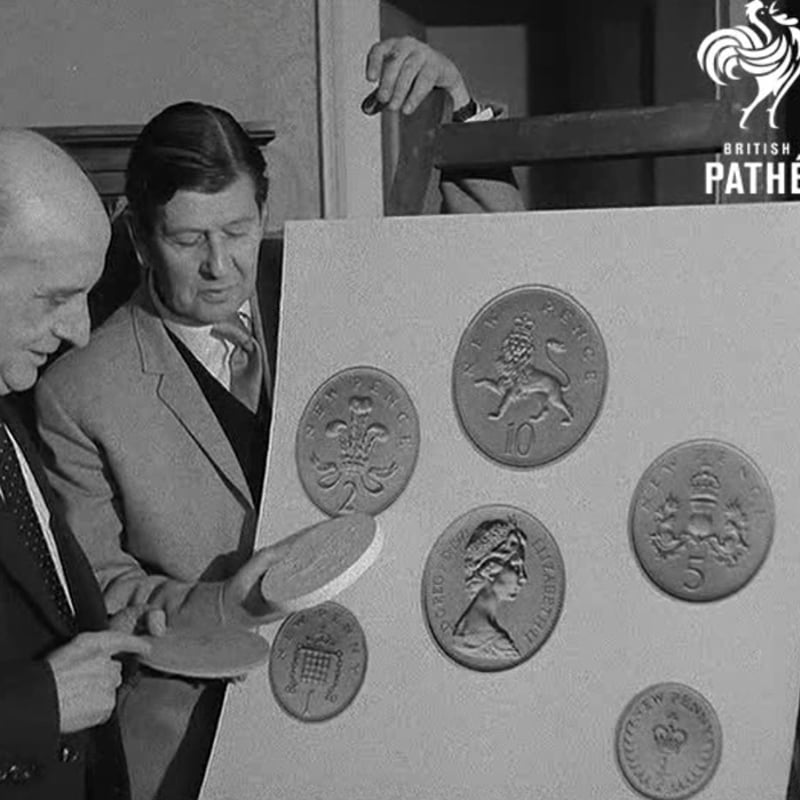 To help people prepare for decimalisation in 1971 the government ran a huge advertising campaign which included television programs and films.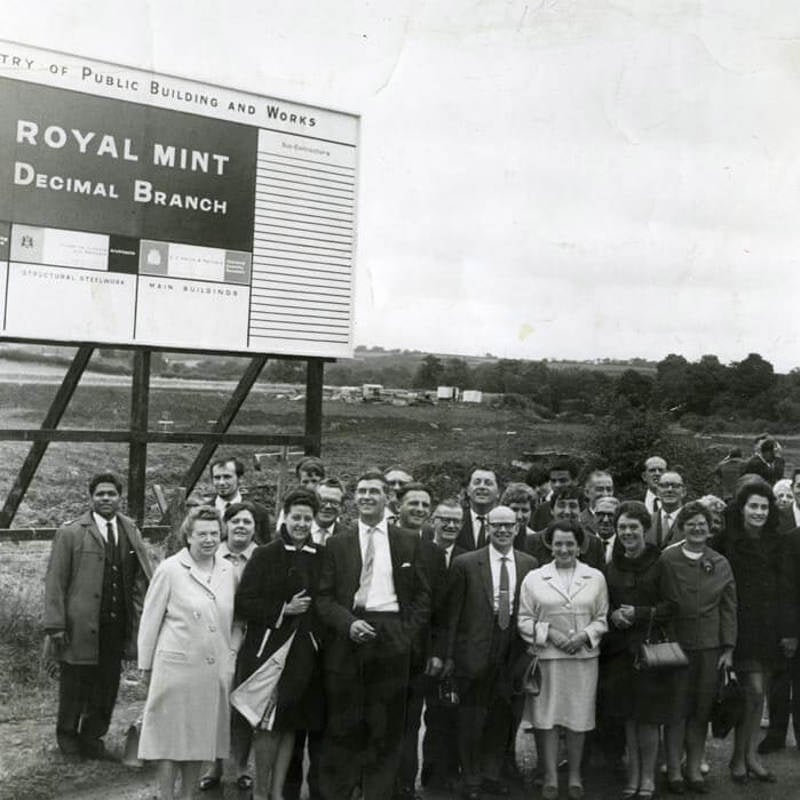 In 1966 the decision to adopt a decimal currency system, required the Mint to strike millions of decimal coins.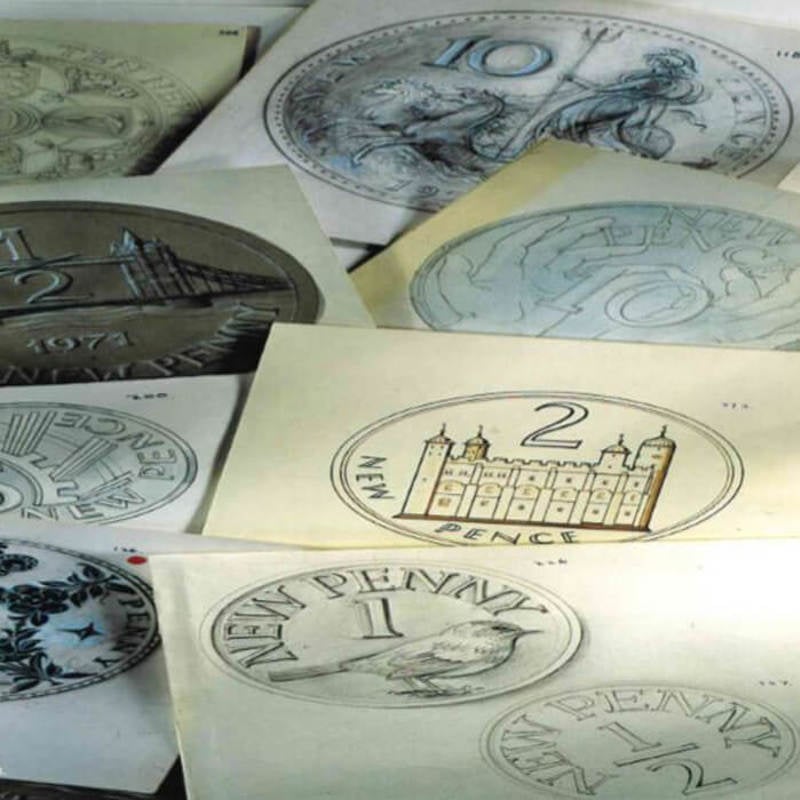 On 1 March 1966 the Chancellor of the Exchequer, James Callaghan, announced that the centuries-old £sd system would be replaced by a decimal currency.