Olivia
A Trip with a 50p Piece
Hello, my name is 50 pence, I have been passed from person to person all my life. I was minted in the Royal Mint in Llantrisant in 1969. I was so lovely, shiny and new. I have seven sides, and weigh about 13.5 grammes. My diameter is 30 milimeters and I'm made from metals called copper and nickel - this makes me quite hard.
There is a picture of our queen on the front of me (heads) and a picture of Britannia on my back (tails) I was the first 50 pence coin to be minted, which makes me feel quite special.
I was talking to another 50p coin on the way to the bank the other day, he said someone called him an old '10-shilling note' once. This made him really upset because he didn't know what a 'shilling' was or what it looked like - he thought it was nasty name calling. It didn't make any sense to him (being a coin) until I told him that we had replaced that paper note, and it was no longer used to buy things - we laughed so much. Afterwards I found out that me and a group of friends (all coins), were part of a special project called 'decimalisation' and we were going to be part of 'Decimal Day' which was to be held on the 15th of February 1971. The night before Decimal Day, I was so excited - I couldn't sleep, but I was also a bit scared - what would happen? Where would I go? What could I buy?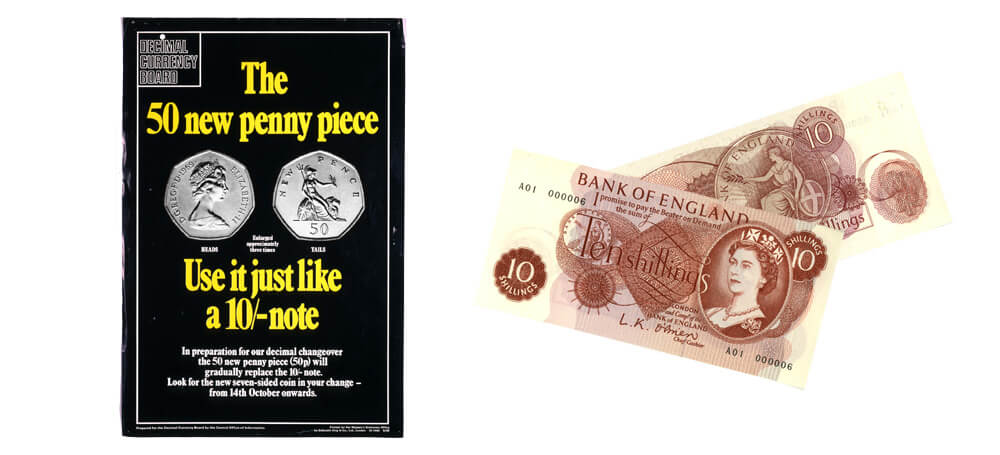 On the day, I started my journey in a woman's purse. She carried me into a shop, and paid for 2 loaves of bread, 2 packs of bacon, a pack of butter, 2 packets of cheese and 3 pints of milk. From there I ended up with a man, he took me to the cinema, I was used to pay for a ticket and two lemonades, 2 packets of boiled sweets and a packet of popcorn. I remember spending the night in the till.
The next day Audrey had me. Audrey was a young girl and the most unusual person I had ever come across - because she didn't spend me. She took me everywhere she went! She wore a woolly jumper and brown corduroy trousers. Audrey kept me in her trouser pocket along with a Conker on a string and a sticky toffee sweet: it was quite cosy in there. One day on a walk in the park Audrey pulled the Conker out of her pocket and I went hurtling in the air and landed in a puddle! I was soaking. I laid there for a while, then suddenly, a blue glove came towrds me...it was a man. He picked me up, gave me a shake and put me into his wallet. I turned over and saw five other 50 pences, I shouted hooray! I was so pleased to see everyone again.