Royal Mint Swimming Club medal
The Royal Mint has long been home to a strong community of workers, and the Museum cares for many items that reflect their shared passions and hobbies or life at the Mint itself. The silver medal illustrated here is one such piece, awarded to members of the Mint Swimming Club, which had its first committee meeting on 4 August 1897, when the Mint was still located at Tower Hill in London. It depicts on one side the White Tower of the Tower of London and on the other a simple wreath and inscription.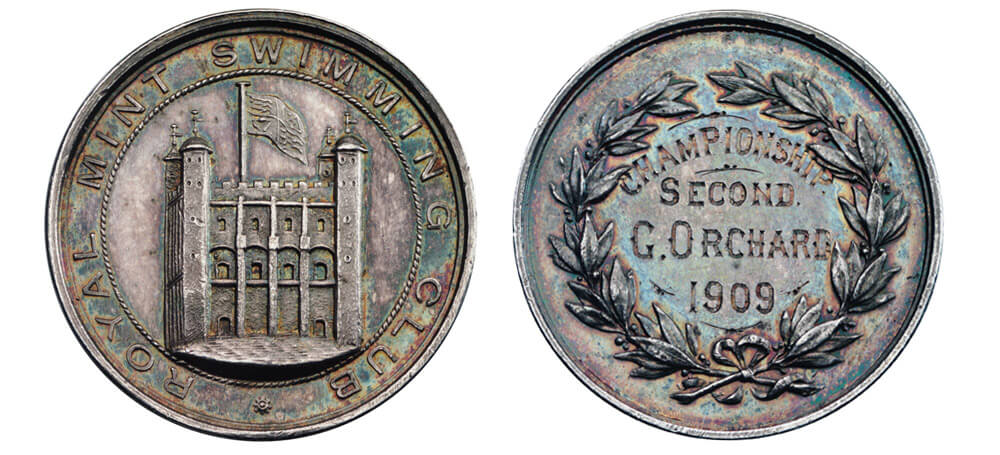 This medal was won in 1909 by George Orchard, who joined the Mint as a boy in September 1892 and who in a long career that lasted over forty years rose to the rank of Special Craftsman. Other items in the collection reveal that Orchard also enjoyed continued successes as a swimmer, his name adorning several trophies and medals acquired in relation to the Swimming Club. The presence of this medal and accompanying items in the collection sheds light on the social activities of the Mint staff. It is also noteworthy that symbolic use of the White Tower was still being made some 100 years after the Mint had given up its historic quarters within the walls of the Tower of London.
The Museum also holds a Swimming Club Committee minute book, which tells us of the Club's formation: 'It having been decided to start a swimming club in connection with the Royal Mint, a meeting of those gentlemen who had promised to join and support the club was called at the Whitechapel Swimming Baths'. The minute book further gives a personal account of the many excursions and galas organised for Club members and their families, which clearly fostered a deepened sense of community. In 1898 Club Vice-President Edward Rigg, then Superintendent of the Operative Department and one of the most senior figures in the Mint, said that the club was 'a thorough success numbering 41% of the entire staff of the Mint from the Chancellor of the Exchequer to the Chairwoman'.