The coins of Edward VII
There are just over one hundred Imperial coins of Edward VII in the Royal Mint Museum collection. About one-third of these are dated 1902, the first year of the coinage, and were evidently set aside at the time, one set of gold and silver coins coming as matt proofs and a second proof set without a matt finish but mostly from the same dies.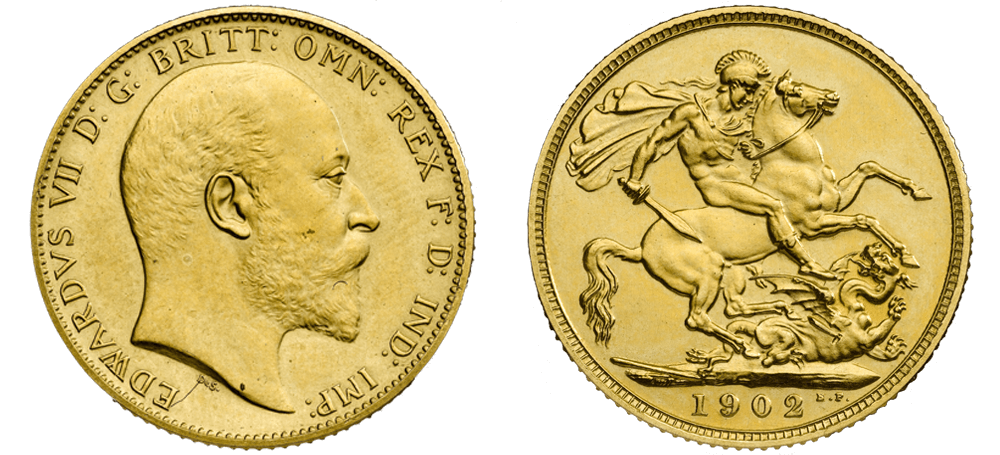 Other coins have been added subsequently and sometimes fortuitously. The most significant purchase has been a specimen of the extremely rare half-crown of 1905 (RMM 221), acquired to assist the authentication of genuine coins and the detection of counterfeits. The florin of 1903 was purchased because it came with contemporary documentation indicating that florins of this type had been issued in Lagos and immediately withdrawn, thereby raising the possibility of local objections to the unusual standing Britannia design on the reverse. Also purchased were three Maundy sets of 1902, 1903 and 1904 in order to improve the Museum's holding of Maundy Money and because of their direct association with a former Superintendent of the Operative Department.
Base metal 'model' strikes of the gold denominations will catch the eye but unfortunately little is known of their origin and purpose. The only helpful clue at the moment is provided by the despatch in November 1905 of four 'models' in metal to the Italian Embassy in response to a request for 'drawings' of sovereigns and half-sovereigns for the use of cashiers at the Italian Treasury (MINT 1/50 p.567 and MINT 21/21, no.1227).
Rather more intriguing is the base metal shilling of 1905 (RMM 230), whose contemporary ticket suggests that it is associated with experiments into wear. Though these specific experiments have yet to be traced, Royal Mint Annual Reports of the period show clearly the official interest in the rate of wear suffered by coins in circulation.