Coins of Jordan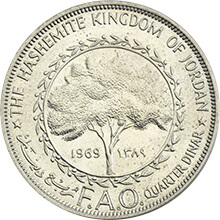 The Royal Mint has a long relationship with Jordan stretching back to the first national coinage – dated 1949 but issued in 1950 – produced soon after the achievement of independence. An order was placed for six denominations, from the 100 fils down to the 1 fils. The denomination, date and name of the country appeared in Arabic on the obverse, in English on the reverse. A misunderstanding regarding the spelling of the Arabic singular meant that the first issue included a 1 fil coin – this was hastily corrected to 1 fils for future orders.
A major design change was made in 1968 when a portrait of King Hussein by Philip Nathan was adopted for the obverse. In the following year a quarter-dinar was issued into circulation, initially under a scheme devised by the Food & Agriculture Organisation of the United Nations to raise funds for agricultural projects. The reverse bore an olive tree design by Michael Rizzello.
A new portrait of King Hussein by Geoffrey Colley was introduced for circulating coins in 1978. It had been used the preceding year on three Jordan coins issued as part of the Conservation Coin Collection – an international project in collaboration with the WWF which helped finance conservation programmes.
The 1990s witnessed a considerable amount of activity: a new, left-facing royal portrait was introduced; a new series of lower denomination coins consisting of 10, 5 and 2½ piastres, 1 and ½ qirsh was issued; seven-sided dinars, half-dinars and quarter-dinars were struck; and, in 1997, Jordan's first bi-metallic coin – a half-dinar – was released. With the accession of King Abdullah in 1999, a new portrait by Robert Elderton made its first appearance on coins of the following year.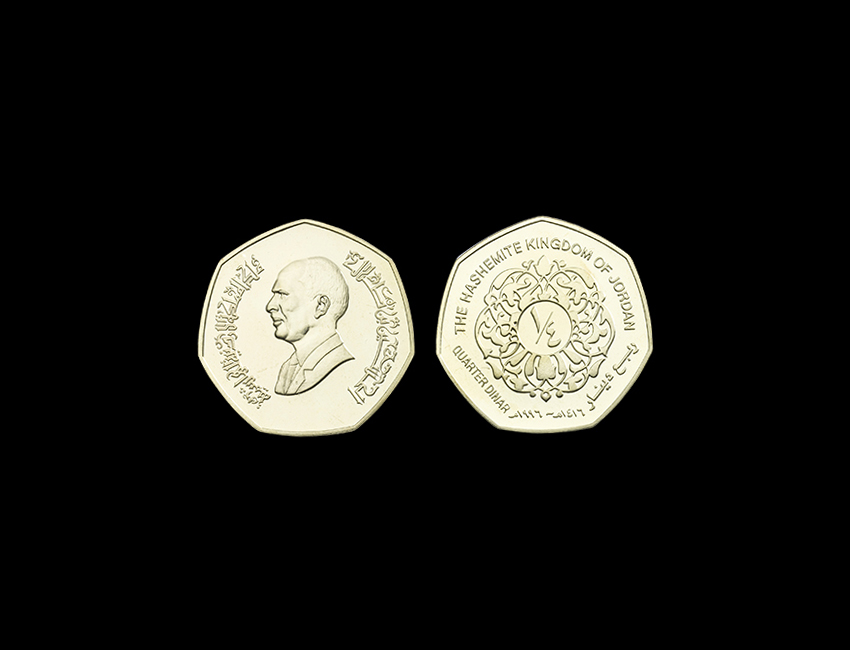 Quarter-dinar, 1996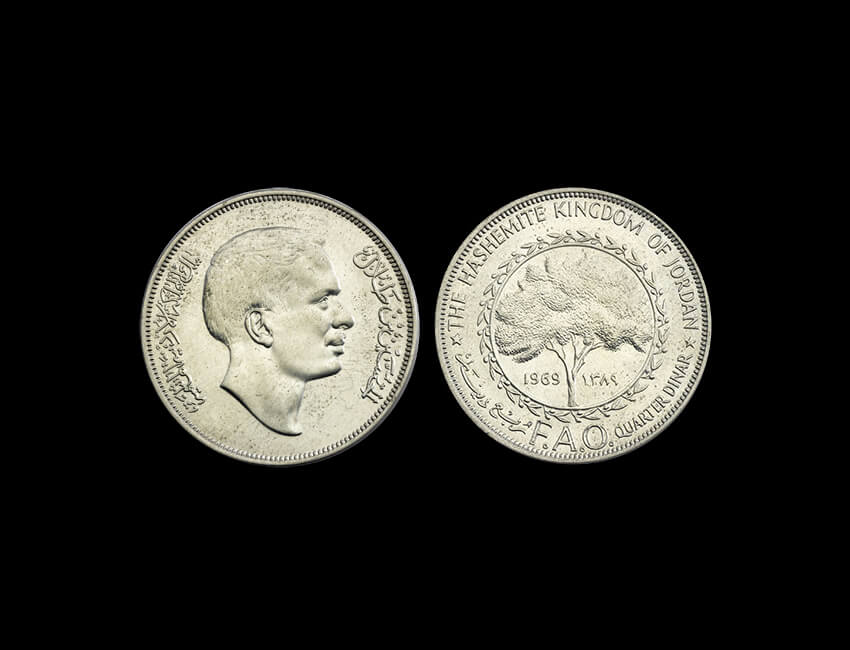 Quarter-dinar, 1969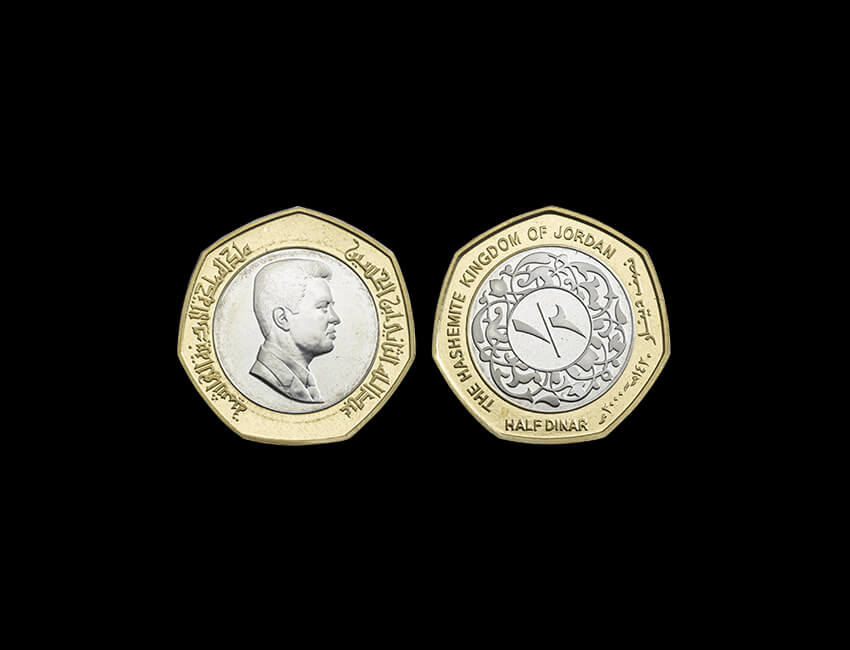 Half-dinar, 2000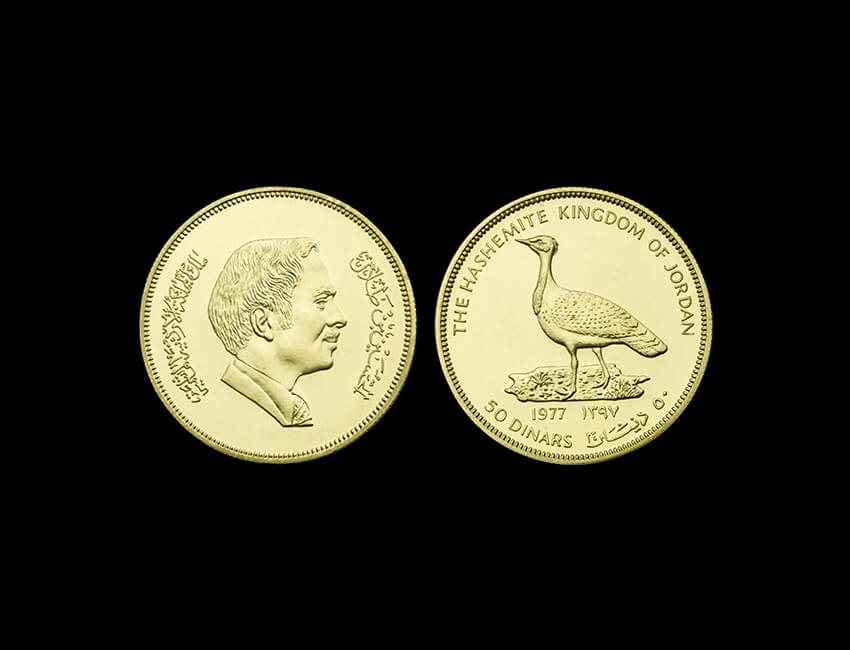 50 dinars, 1977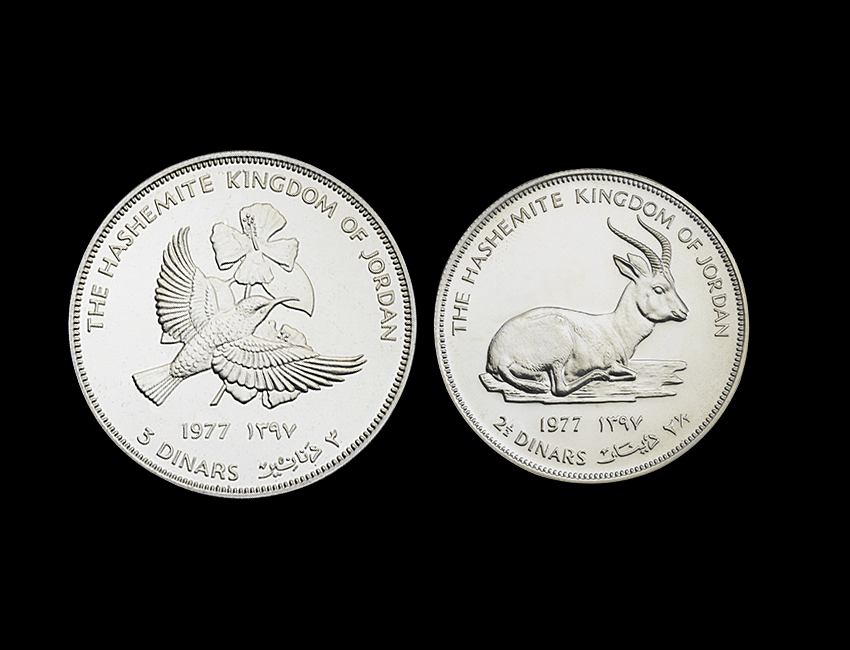 3 dinars & 2 ½ dinars, 1977, reverses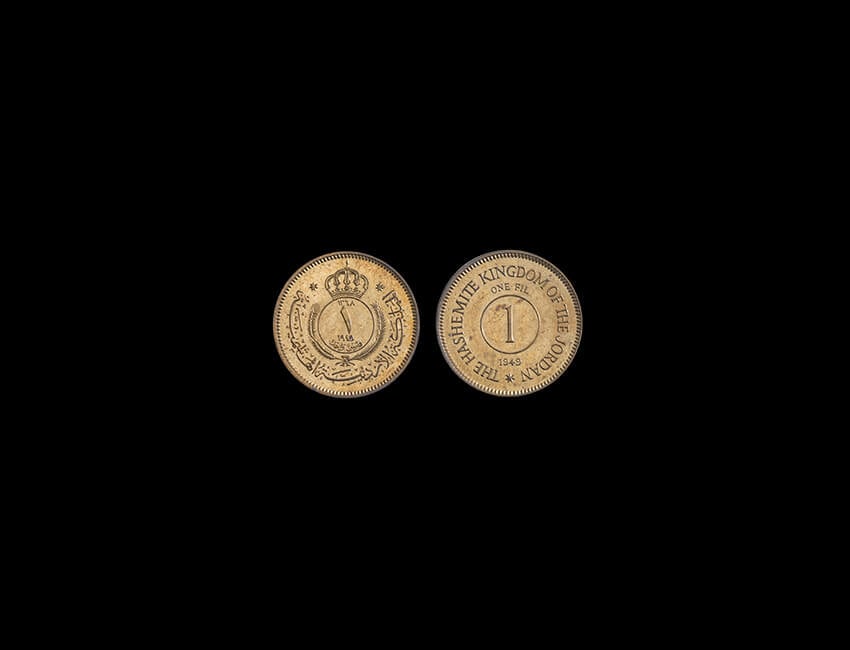 1 fil, 1949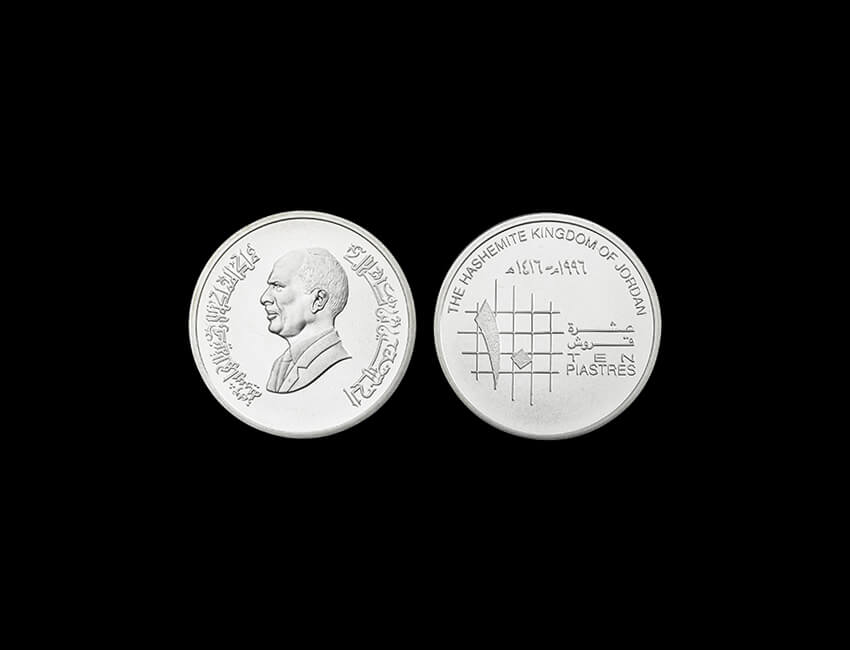 10 piastres, 1996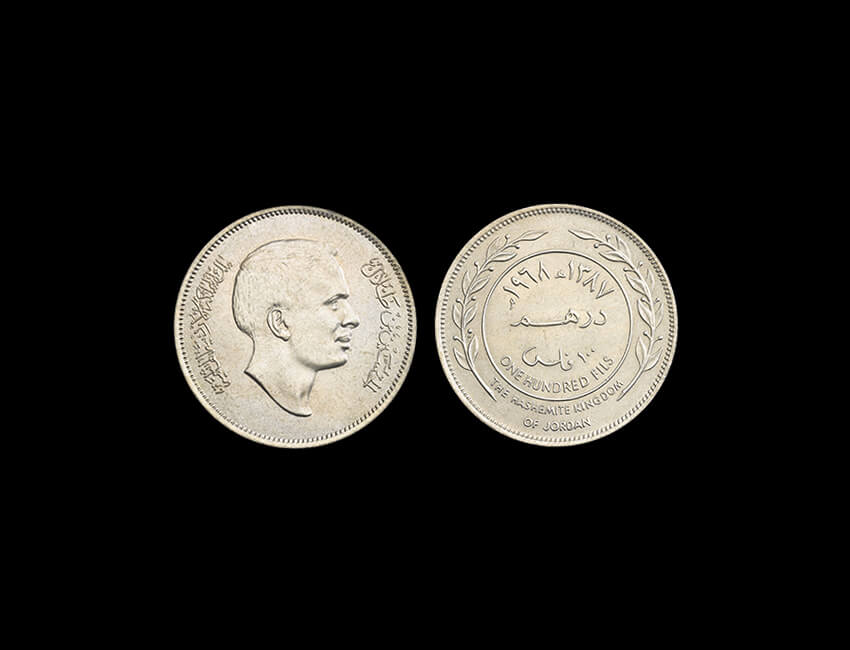 100 fils, 1968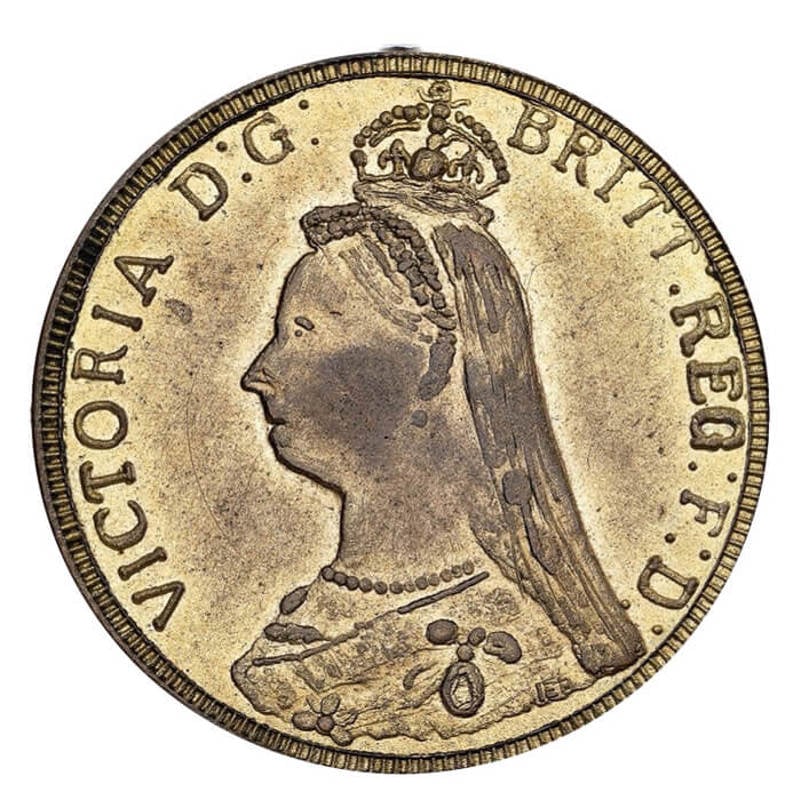 For as long as there have been coins there have been counterfeits.
The Museum collection contains over 80,000 coins which span from ancient times to the modern day.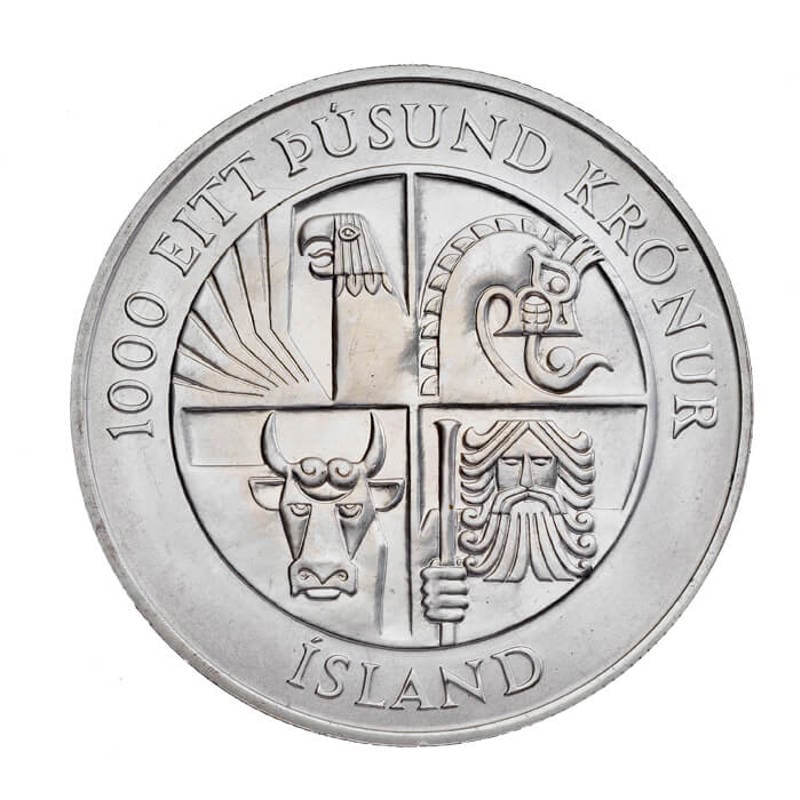 The origins of Iceland's relationship with the Royal Mint may be found in the Second World War.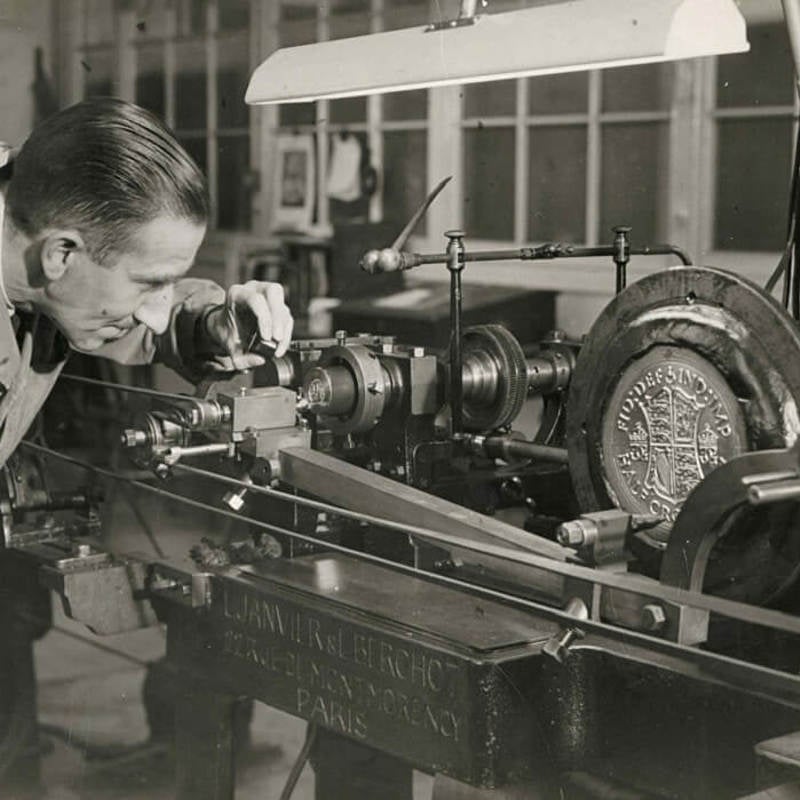 The objects in the Museum each represent a stage in the process of transforming a concept into a coin.