Queen Victoria's children
The Royal Mint Museum contains a charming group of medallic portraits of seven of the children of Queen Victoria and Prince Albert. They appear to have been made in 1850 and therefore do not include the two children who were born after that date.
The skilfully-executed portraits are the work of Leonard Wyon, a member of the extremely talented family of engravers whose name is so well known to numismatists. The son of William Wyon, he was actually born in the Royal Mint in 1826 and, though he never succeeded his father as Chief Engraver, he enjoyed an active association with the Mint that was to last until his death in 1891. These particular portraits, however, were not commissioned by the Royal Mint and little seems to be known at present about the circumstances in which they were prepared, but for some reason the dies have survived in the Royal Mint Museum, along with single-sided bronze impressions roughly the size of a half-crown.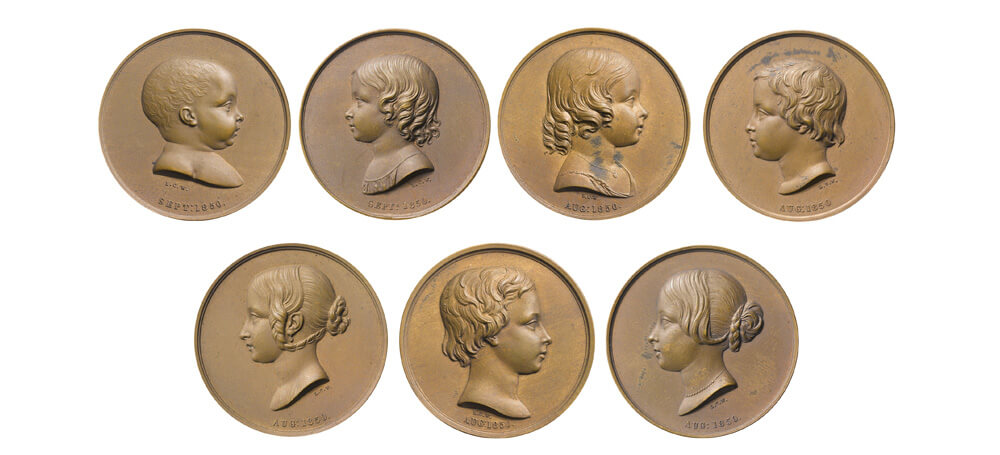 Corresponding reverse dies also survive, showing the name of the Prince or Princess and the date of birth.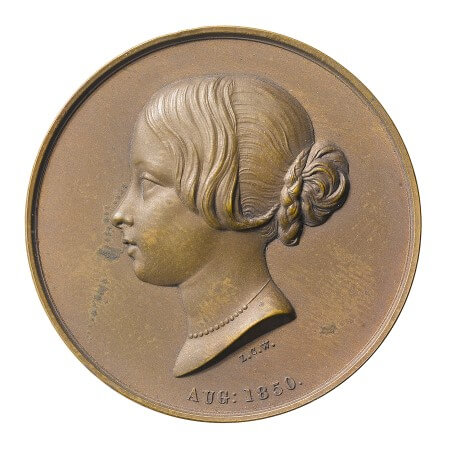 Victoria Adelaide Mary Louisa: Born Nov 21 1840
The eldest child of Queen Victoria, known to her family as Vicky, was named Princess Royal in 1841. She married Prince Fredrick William of Prussia at the age of 17 and became Crown Princess of Prussia in 1861.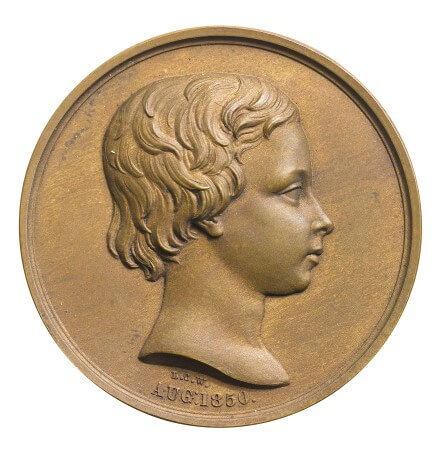 Albert Edward: Born Nov IX MDCCCXLI
The eldest son of Victoria and Albert, known as Bertie to his family but he was later to become King Edward VII of Great Britain.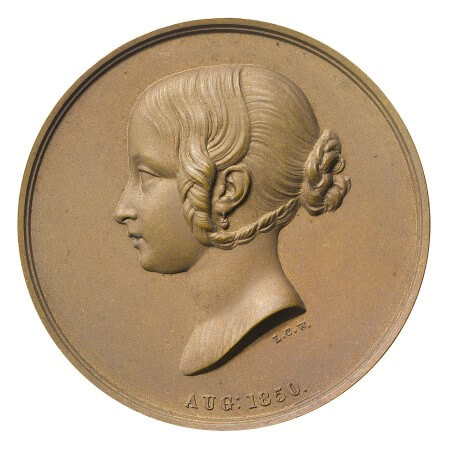 Alice Maud Mary: Born April 25 1843
Princess Alice was known as the care giver to the Royal family and nursed both her Grandmother and Father through their last illnesses. Alice was married to Prince Louis of Hesse and moved to the small territory where she continued her charitable work founding the Alice-Hospital in Darmstadt in 1869.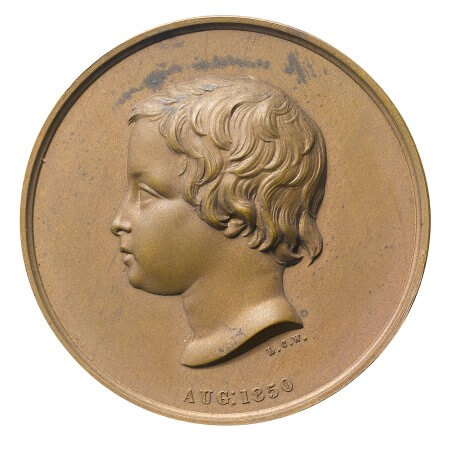 Alfred Ernest Albert: Born August 1844
Alfred or Affie to his family entered into the Royal Navy as a midshipman at the age of 14. A mere 8 years later he was promoted to Captain and in 1867 he became the first member of the Royal family to visit Australia. He married the Grand Duchess Maria Alexandrovna of Russia in 1874 and inherited the Duchy of Saxe-Coburg and Gotha in 1893.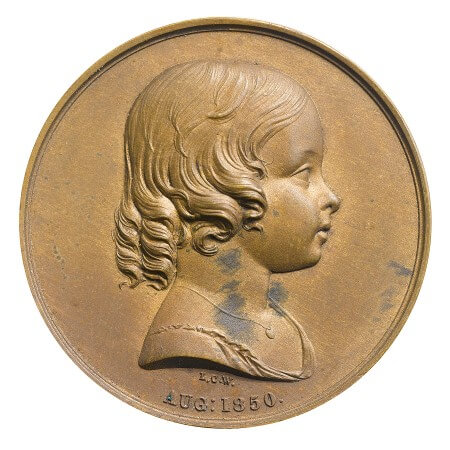 Helena Augusta Victoria: Born May 25 1846
A lively young child who enjoyed riding and boating Helena later took over as her mother's unofficial secretary after the marriage of her sister Princess Alice. Her marriage to Prince Christian of Schleswig-Holstein cause some controversy within the Royal family but his having no official duties abroad allowed Helena to remain close to her mother. Helena was devoted to nursing using her Royal status to promote organisations such as the Royal British Nurses' Association.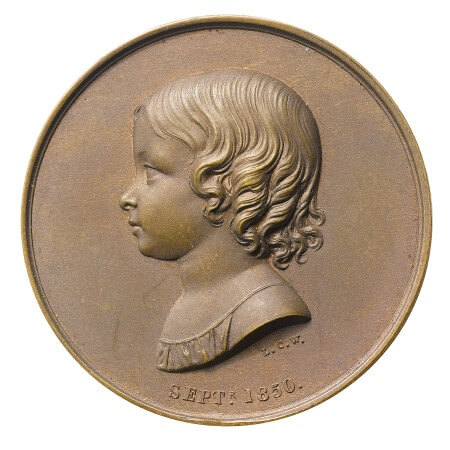 Louise Caroline Alberta: Born March 18 1848
Princess Louise was an able sculptor and artist. She married John, Marquess of Lorne, the heir to the Duke of Argyll in 1871 and moved to Ottawa with him 7 years later when he was appointed Governor General of Canada. After the couple's return in 1883 they took up residence at Kensington Palace where Louise would remain until her death in 1939 at the age of 91.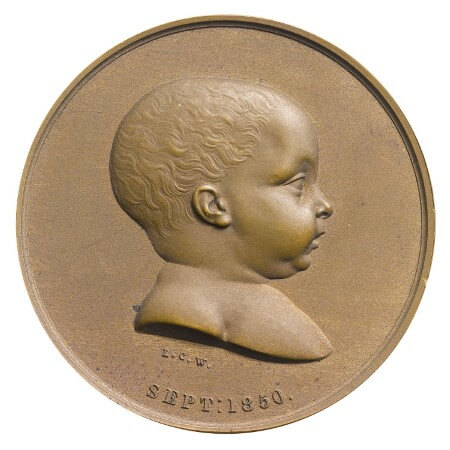 Arthur William Patrick Albert: Born May 1 1850
At an early age Prince Arthur developed an interest in the Army was commissioned as a lieutenant in the Corps of Royal Engineers on 18 June 1868. He had a long and distinguished career as an Army Officer serving in South Africa, Canada, Ireland, Egypt and India.