Book a tour
We're open every Thursday to Sunday and bank holidays
If you're interested in booking for a Monday to Thursday, please email experience@royalmint.com.
We may not be able to accommodate this immediately, but we will be able to let you know when additional tours become available.
IMPORTANT: If you are travelling from an area in local lockdown, we will not be able to allow you into the building. Please check local guidelines prior to travelling.
There's so much to discover, from kings and queens to blanks and banks, and we've been working hard behind the scenes to ensure your visit is as safe as possible.
This means that there are some changes to the way the different areas at The Royal Mint Experience are working. You'll also see clear signage from the moment you arrive, and our visitor hosts are here to help if you're unsure of anything during your visit. Together we can ensure a safe and happy time for all our visitors and staff.
You can read more about the safety measures we have put in place on our website: www.royalmint.com/rme-safety-guide
Please note that tours are currently limited to 7 people from separate households, or up to 3 'bubbles' of 4 people if from the same household.
To ensure that our capacity is controlled as carefully as possible, please make sure you arrive no earlier than 10 minutes before your allocated time.
Visitors should check the latest government guidance before making their journey to ensure they are complying with the health and safety requirements. For example, visitors planning to travel from any 'local lockdown' areas will need to re-arrange booking for a later date. The latest government guidance can be found here: https://www.gov.uk/coronavirus
Online Exhibition
Take a look at some highlights from the objects on display in our exhibition gallery.
During your visit
You'll learn more about the history of The Royal Mint, one of the top-rated tourist attractions in South Wales, and you will be able to see the special coins and rare historical memorabilia that our exhibition holds
Offers and Events
Our events explore our history and traditions through fun and creativity, while our offers provide that added value that we all need from time to time.
How to find us
Just four miles from Junction 34 of the M4, The Royal Mint Experience is conveniently located for our visitors to find – we are just 20 minutes away from Wales' capital city, Cardiff.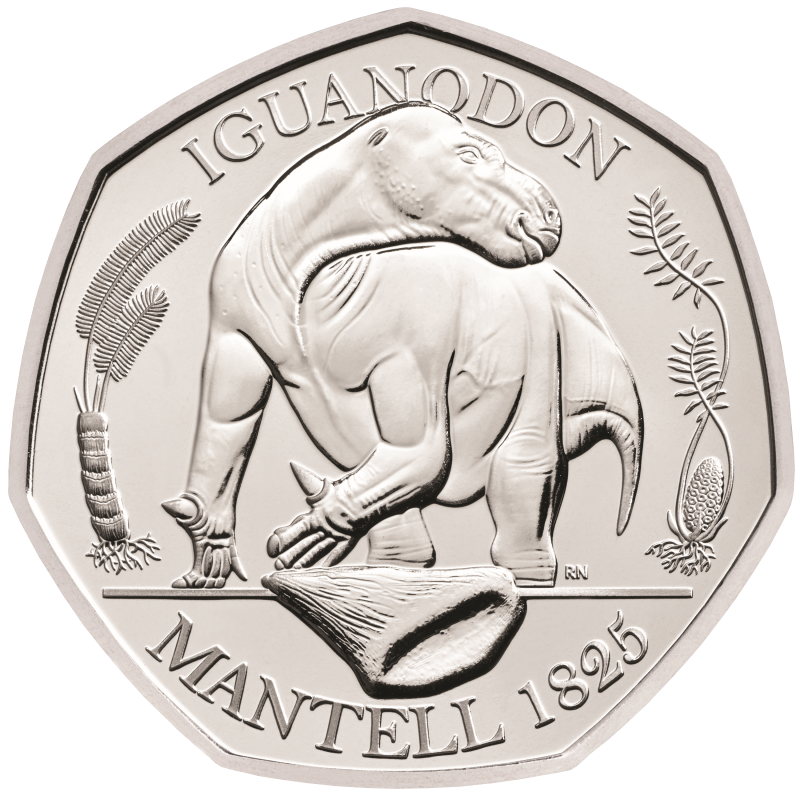 Strike your own Iguanodon 50p
31st July - 24th September 2020
In 1822 Mary Mantell found a fossilised tooth embedded in the rocks by the side of the road near Lewes in Sussex. Her husband Dr Gideon Mantell, an amateur palaeontologist, realised it belonged to a giant extinct reptile which he named Iguanodon in 1825.
Iguanodon lived during the Early Cretaceous period, 140–110 million years ago. Reaching a length of about ten metres, Iguanodon probably walked on both two and four legs. It may have used its thumb spike to fend off predators or prepare its food.
50% off admission when you come back to strike the next in the series
Start your collection today and get 50% off your tour admission when you come back to strike the next coin! Click here for full terms and conditions.

Book a tour